"Parham, recognised as one of this country's finest
makers of social documentaries."
Nicole Brady THE AGE
Parham Media has a proud track record in the production of television documentaries, corporate video and education & training programs.
Don Parham, the principal of Parham Media, is one of Australia's most established and well regarded documentary film-makers.
_______________________________________________________________________________________________________________
The 'SMITHY' DVD - A Collector's Item!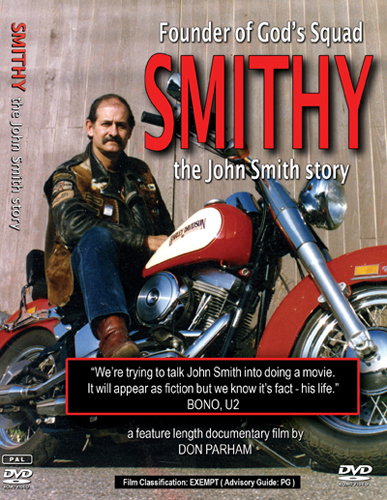 The duration of the feature length 'SMITHY' film is 130 minutes.
The DVD also contains 150 minutes of EXTRAS (see details below)

Securely purchase the DVD via PayPal/credit card below

AUSTRALIAN ORDERS - $29.95 + $5.00 post = $34.95 AUD

INTERNATIONAL ORDERS - $29.95 + $12.00 post = $41.95 AUD

PLEASE NOTE: Educational, church, corporate, government and other 'non-Personal Use' purchasers
need to acquire the appropriate 'Screening Licence' by selecting the correct 'User Category / Price' below.
* Delivery times - Australia: up to 1 week / International airmail: 1-2 weeks
* Payment can also be made by cheque or electronic funds transfer - contact us

"John Smith's wild ride from conservative preacher's kid to radical Australian Christian, God's Squad founder, social justice campaigner and revolutionary church leader is fascinatingly told in Don Parham's excellent film. This is an objective warts-and-all view biography, not a self-serving hagiography. It covers the important parts in the story, including the rise of Smithy's Truth and Liberation church, his bitter split from it a few years later and his battle with cancer. Provocative and challenging, the film doesn't pull punches. John sometimes made his listeners – and other Christian leaders - uncomfortable. He spoke of authentic blood-and-guts Christianity rather than offering theological soundbites about a sanitised Jesus. This non-conformist inspired and changed the lives of thousands. He made a real difference. 'SMITHY' is an honest and fitting essay on the life of one of Australia's most influential and interesting Christian communicators."
TIM COSTELLO, AO
CEO, World Vision Australia
_________________________________________________________________
See the latest news for the 'SMITHY' film on facebook
DVD EXTRAS:
* Audio recording at TLC of a bible study by John on the Book of Acts, 1973
* Audio recording of a talk by John at a high school, 1979
* Audio recording of John speaking at a rally in the Melbourne CBD, 1981
* 3 slideshows of God's Squad and Truth & Liberation Concern people and events in the 1970's
* A slideshow of old and new photos from a John and Glena family album
* Slideshows are accompanied by music from 'Old School Blues' by Dave Diprose
(CD available from: www.davediprose.com)
* Press Kit, articles, film transcript, credits list in the DVD-ROM section of disc
(accessible via computer)
DVD FEATURES:
Menus / Chapters / Closed Captions (English) / Dual Layer DVD-9 / PAL / Colour
Aspect ratio: 16x9 widescreen / Audio: Dolby Digital 2.0 Stereo / Language: English / All Regions
___________________________________________________________________________
______________________________________________________________________________________________________________

Don Parham TV Docos Available on DVD

'RIOT OR REVOLUTION'
a docu-drama about the Eureka Stockade, 1854

MORE INFO / PURCHASE DVD ONLINE HERE

Produced for ABC-TV


Only once in our history have Australians stood under opposing flags and faced each other on a field of battle. It was the Eureka Stockade of 1854 on the Ballarat goldfields in the new colony of Victoria. After the battle, thirteen rebel leaders were charged with high treason. If found guilty, they could hang. Their fate would be in the hands of a jury that had to decide whether the Eureka Stockade was a riot or a revolution. 'Riot or Revolution' tells the story of this defining moment in our history, examining the causes of the conflict and exploring its legacy for us today. There are very few photographs of Victoria at the time of Eureka. People drew and wrote about their world. This is the window we have chosen to look through to examine the Eureka legend – that is to say, the film is largely constructed around the actual words and pictures that people at the time created in order to record their lives and tell the story of Eureka. As the caption at the start of the film says – "the lines spoken by actors in this film are the documented words of the historical characters". This is a film grounded in primary source material.
'THE CHOICE'




personal stories about abortion

MORE INFO / PURCHASE DVD ONLINE HERE

Produced for SBS-TV


'The Choice' is a film about the experience, not politics, of abortion. It gets behind the often over politicised debate to the real human stories. Five women and one man share their most intimate thoughts about what it was like to be suddenly confronted with an unplanned pregnancy. Their stories reveal the varied and complex circumstances in which people struggle to work through their options and make, what for most, is a difficult choice. Some of the people who share their stories are:

Hiroko

Firak

Catarina